---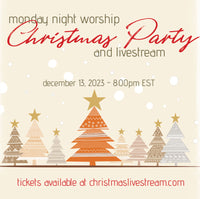 MNW Christmas Party & Livestream Concert Ticket 2023
Regular price $19.00
Tax included.
Join us on Wednesday, December 13 at 8pm EST for a Monday Night Worship Christmas Party and an evening of live-streamed Christmas worship with davepettigrew.  Live from the studio in New Jersey.  We can't wait to share Christmas with you!
Plus, you can even order a VIP ticket that includes the BRAND NEW "A Christmas Collection" release SIGNED from davepettigrew!
Order today, you don't want to miss out on this special evening of Christmas worship.
NOTE:  If you're a JDB Member, check your membership area for exclusive discount codes!
See you at the show!