---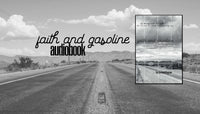 Sale
Faith And Gasoline Devotional Journey - AUDIO BOOK
Sale price $14.99 Regular price $24.99
Tax included.
Experience the Faith And Gasoline Devotional Journey as an audio book.  This is a new and different musical and audio experience.   
This audio book comes complete with the Faith And Gasoline album and the Faith And Gasoline Acoustic Sessions album.  These albums are embedded within the reading of the book itself to further compliment the story and the devotions.  
Includes the songs Love Is Here, Undertow, There Is Hope, Reflection of You and more.  Includes 17 chapters of devotions.  Also includes the entire Faith and Gasoline Story from the devotions released in 2017 and 2019.
Order the Faith And Gasoline Devotional Journey audio experience today.  You won't regret it.
Audio book read by the author.
Running Time: 3 hours 30 minutes
Format: MP3 (192kbps/44.1)